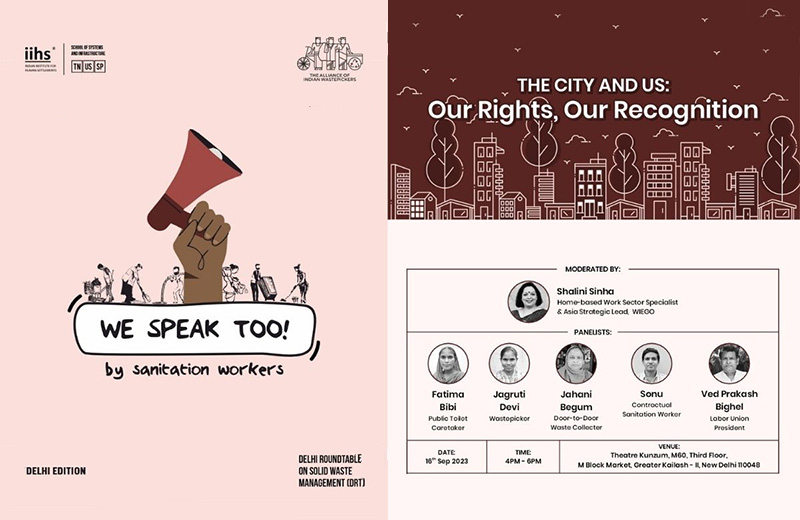 The "We Speak Too by Sanitation Workers" event is back for its 6th and final edition! This multi-city seminar series foregrounds the voices of sanitation workers from across the value chain to share their stories, challenges, and experiences with a diverse audience.
Organised by the Indian Institute for Human Settlements, the session in Delhi promises to be just as engaging as the previous seminars held in Bengaluru, Mumbai, Dehradun, Bhopal, and Patna.
About the Session
This event centred around the theme "Our Rights, Our Recognition," features five sanitation workers from Delhi who shared their professional and personal challenges and aspirations. The session is moderated by Ms Shalini Sinha, Asia Strategic Lead, Women in Informal Employment: Globalizing and Organizing (WIEGO).
The panellists of the event are:
Jahani Begum – a door-to-door waste collector
Fatima Bibi – a public toilet caretaker
Jagruti Devi – a waste picker
Sonu – a contractual worker
Ved Prakash Bighel – former labour union president
Don't miss this opportunity to hear from these inspiring individuals on the theme "The City and Us: Our Rights, Our Recognition" and be a part of the conversation about how we can better support sanitation workers in their critical roles.
Date: Saturday, 16th September 2023
Time: 4:00 PM to 6:00 PM
Venue: Theatre Kunzum, M60, Third Floor
M Block Market, Greater Kailash – II
New Delhi 110048
This "We Speak Too" seminar was held in September 2023.
You can watch the live recording here.