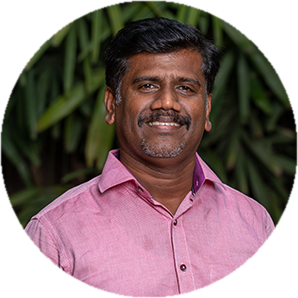 Rajakumar Baskar holds a Master's Degree in Social Work (MSW), with a specialisation in Medical and Psychiatric social work (M&P), from the Madras School of Social Work (MSSW). He has worked in the development sector for more than 22 years in the domains of Social and Behaviour Change Communication (SBCC), Water, Sanitation and Hygiene (WASH), Communication, Advocacy and Partnership (CAP), People Living with HIV (PLHV), Sexually Transmitted Infections / Reproductive Tract Infections (STI/RTI), HIV-TB Co-infections and Public Health issues.
His functional areas have been Swachh Bharat Mission-Gramin SBM(G) Phase I & II, WASH in schools, hospitals, Anganwadi centres and during emergencies. His expertise includes sanitation technologies and capacity building. He is recognised by the UNICEF and SIRD as a state-level resource person for rural sanitation, Community-led Total Sanitation (CLTS/CAT/CAS), Open Defecation Free (ODF/ODF-S/ODF+), and Appropriate Twin Leach Pit Toilet Technology and Retrofitting of Individual Household Latrine (IHHL).
Since March 2022, Rajakumar has been based in Tiruchirappalli as a Specialist-Social Development in the City-Wide Inclusive Sanitation (CWIS) project. He is assisting in the implementation of strategy and sanitation programmes/projects pertaining to the urban poor with a focus on converting settlements into ODF zones and the conversion of insanitary toilets to sanitary infrastructure. He also contributes to the development of guidelines, training manuals, behavioural change communication and advocacy materials.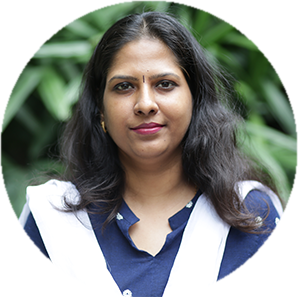 Saritha has nine years of diverse experience in office administration, business development and client servicing, public relations, and media management. She has worked in various sectors, including ITES, apparel, event management and insurance.
Prior to IIHS, Saritha worked with the Raasi Group of Companies, handling business operations and politics. Her responsibilities involved managing publicity strategies and campaigns for Indian Solar Association to promote "Make in India," and solar power by coordinating between Government agencies and Cabinet Ministries, International Solar Alliance and the Prime Minister's Office.
Saritha previously managed her own event management company, which developed various concepts for FMCG promotion.
At TNUSSP, Saritha handles office management and administration in Chennai.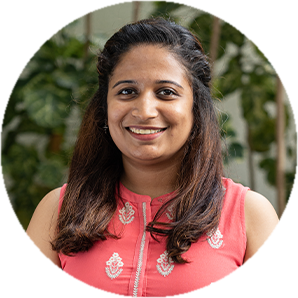 Abhilaasha is an architect-urban planner with a strong passion for working on urban inclusion. She was one of the lead researchers in the Chennai Slum Sanitation Assessment project. A Consultant at the Tamil Nadu Urban Sanitation Support Programme, her work for the past four years has been primarily on inclusive sanitation, specifically around gender equity issues across the full cycle of sanitation.
Having a keen interest in teaching, she has been part of the programme's capacity-building efforts, learning visits and events. She has anchored multiple visits, including an international delegation from the Development Planning Unit, UCL and Overdue JUST Sanitation Project, Africa. She also teaches at the Urban Fellowship Programme at IIHS.
She has been an instrumental part of the Behaviour Change and Communication efforts of the programme, including campaigns like 'Kakkaman', 'Women in Sanitation' and the 'We Speak Too' seminar series. She has anchored several side events and presented at international conferences like the UN Water Conference, FSM 6, UNC Water and Health Conference, and World Water Week.
Previously, she worked as a Teaching Associate at the Faculty of Planning, and a Research Associate (Urban Housing and Informality) at the Centre for Urban Equity, CEPT University, Ahmedabad.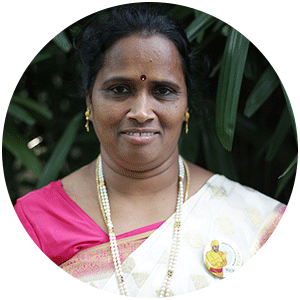 Amala Jancy Celine Rani holds a bachelor's degree in Tamil Literature and another in social work (BSW), with a specialisation in Community Development (CD). She also has a diploma in Fashion Designing & Embroidery. She has completed typewriting courses in English (Senior Grade) and Tamil(Junior Grade)
She has two decades of work experience with Self-Help Groups, Entrepreneurship and other Development Programmes.
Since Feb 2019, Amala works with IIHS, as a Junior Specialist in the City-Wide Inclusive Sanitation (CWIS) project implemented at Tiruchirappalli. She works on activities related to NULM SHGs, livelihood promotion, school wash programmes, MHM awareness programmes, etc. She also supports mobilising participants for skills training, awareness programmes, etc.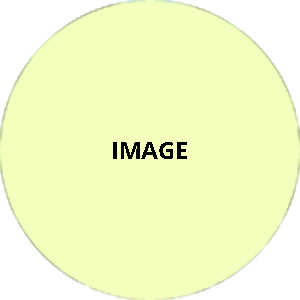 Amit Mahanti is a filmmaker, cinematographer and editor based in New Delhi. He has worked on films and video installations exploring ecological transformation, culture and politics. His films include 'Every Time You Tell A Story', 'Scratches On Stone' and 'Two Autumns in Wyszogrod'. His films have had several institutional and film festival screenings including the International Documentary and Short Film Festival of Kerala, the International Film Festival of India, the Kathmandu International Mountain Film Festival, and Film South Asia (Kathmandu), among others.
Amit has been selected for art/film residency programs at Khoj Studios, New Delhi; Parco Arte Vivente Experimental Centre of Contemporary Art, Turin; Kran Film, Brussels and Ujazdowski Castle Centre for Contemporary Art, Warsaw. His work has been featured in group exhibitions, including 'Sic Vos Non-Vobis / For You But Not Yours' at Parco Arte Vivente Experimental Centre of Contemporary Art (Turin, 2014); 'Evidence Room' at Khoj Studios (New Delhi, 2017), 'Naga Land' at the Humboldt Forum (Berlin, 2022) and the Kochi Muziris Biennale (Kochi, 2022-23). Amit was a recipient of the Charles Wallace India Trust Short-term Fellowship in 2016. He has also been involved with several media-based community art projects in Meghalaya, Delhi, Sikkim and Uttarakhand.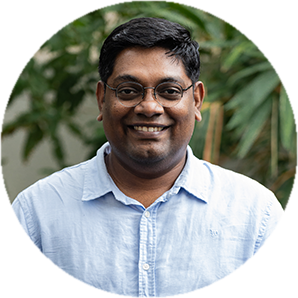 Anand is a development professional with more than 10 years of experience in various thematic areas of WASH – market-based sanitation, designing, programmatic management, analysis and capacity and institution building, in Bihar and Mozambique.
Anand did his post-graduation in Social Work (MSW) with a specialisation in Rural & Urban Community Development. He was part of the prestigious Prime Minister's Rural Development Fellowship offered by the Ministry of Rural Development, Govt of India, with academic mentoring support from the Tata Institute of Social Sciences (TISS). As part of the fellowship, he worked as the nodal person for Jahanabad District in Bihar and later as a State Consultant to design and implement the Swachh Bharat Mission in Bihar. His work with the district administration on addressing the challenges of open defecation in Jahanabad, Bihar, was documented and recognised by the Ministry of Rural Development.
His engagement at the state level focussed on leveraging the women-led community institutions nurtured by Jeevika (State Rural Livelihood Mission of Bihar) to improve and sustain the sanitation status quo of rural Bihar.
Anand was part of the UNICEF WASH emergency response team deployed in Kerala in the aftermath of the floods and landslides in 2018. He took part in drafting the WASH chapter of the 'Post Disaster Needs Assessment' report prepared by the United Nations for the Government of Kerala. He also developed and managed partnerships with community-based institutions, local self-governments and individuals at different levels. He has worked closely with the State Governments of Bihar and Kerala and NGOs to develop, implement and review sanitation programmes.
He was recently engaged as Sanitation Programme Support Officer (International Specialist, UNV) with the UNICEF Mozambique Country office with the key task of developing an appropriate Market-Based Sanitation roadmap for sustaining the ODF status and supporting the communities to climb the sanitation ladder by leveraging appropriate interventions. He was also engaged in the analysis of the sanitation and hygiene status of the country and the subsequent preparation of national and subnational sanitation profiling of Mozambique.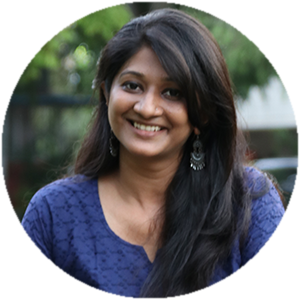 Ann is a Communication Consultant at TNUSSP since 2022. She began her career in the development sector in 2016. Ann holds an MPhil degree in Political Science from the University of Madras and completed her graduation in English Literature from St Stephen's College, Delhi. She has also completed a course on Strategic Management from IIM Bangalore.
Combining her skills in development research and communication, she has worked with various national and international non-governmental organisations with the ultimate aim of making a positive difference in the lives of the most vulnerable. Ann is passionate about disability rights and hopes to develop a viable inclusive education model for children with intellectual disabilities.
When she's not developing communication content and strategies, Ann loves to curl up in one corner with a book and a hot cup of cocoa, along with her little cat.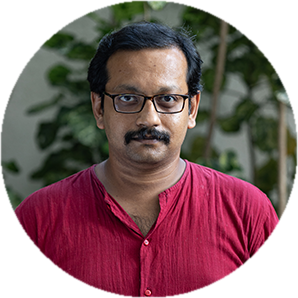 Arka was born in Kolkata, West Bengal. He completed his bachelor's in Political Science from the University of Calcutta and post-graduation in Human Rights from Rabindra Bharati University. Between under-graduation and post-graduation, he worked with grassroots organisations which worked for children.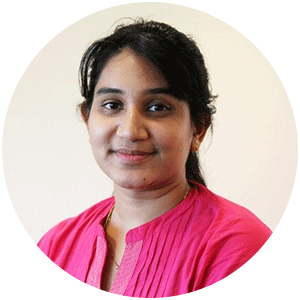 With a wealth of experience spanning over 15 years, Divya Dhayalan is a versatile and dynamic design professional who has honed her skills to create compelling designs that effectively communicate complex ideas.
As a design consultant at TNUSSP, Divya collaborates with diverse teams of researchers and analysts to bring their ideas to life through visually stunning identity designs, data-driven posters, event collaterals, brochures, bilingual (English & Tamil) social media campaigns, templates, presentations, and report publications.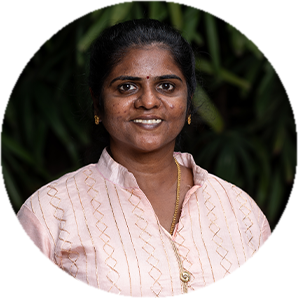 Donata Mary Rodrigues is an experienced development professional with a diverse portfolio of projects spanning over three decades. With a profound educational background and a fervent commitment to social development, she has consistently made a remarkable impact in her career. From her instrumental role as a Programme Assistant to her subsequent achievements as a Programme Manager and ultimately as a revered Country Director at a distinguished Swiss development organisation, she has showcased exceptional expertise in project coordination, strategic leadership, and advocacy. Her unwavering dedication to empowering marginalised communities establishes her as a development professional.
Currently, Donata works as a Lead in the Tamil Nadu Urban Sanitation Support Programme, where she coordinates programme activities on gender and inclusive sanitation and manages key stakeholders in the government. She is responsible for ensuring effective quality assurance of programme outputs, managing the inter-dependencies of various sites and activities, and initiating appropriate corrective actions as needed.
Donata has an impressive academic background. She holds a Certificate in Social Entrepreneurship from the prestigious University of Oxford, along with an MBA in Accounting and Finance, a Certificate in Fundraising, an MA in Public Administration, and a B.Sc. in Zoology. Notably, she was honoured as a Commonwealth Scholar while pursuing her MA in Sustainable Development. These exceptional qualifications demonstrate her commitment to continuous learning and highlight her expertise in the field of development.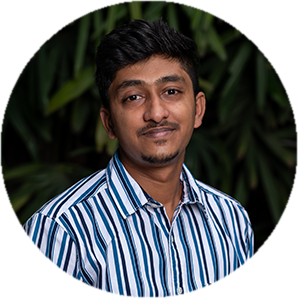 Fayaz Ahamed holds a bachelor's degree in civil engineering and has seven years of experience in construction and environment-related projects. Prior to IIHS, he worked as Assistant Engineer at a renowned private sector company in Chennai.
At IIHS, he is part of the TNUSSP quality assurance and quality control teams. He provides technical support for the construction of FSTPs and decanting stations in the STPs. He also works in the area of Fecal Sludge Management (FSM) and co-treatment assessment, where he visits FSM plants and Sewage Treatment Plants across Tamil Nadu, assesses the Operations and Management of treatment facilities and provides implementation support for treatment systems.
Outside of work, he enjoys playing carrom and cricket. He is obsessed with music, especially melodies which help him stay focused during long work trips.